So you *think* your cloth diaper stash is complete and you are in bliss eh? Think again my fellow fluff loving mamas! Today I introduce you to your next must have cloth diaper…..Chelory is the brand and the Organic AIO (All-In-One) is my new obsession.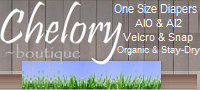 Handmade in the USA by RaCHEL with the support of her husband CORY, this mama stumbled into her business after selling off her own stash she had made for her daughter. After several requests for more diapers were made, Rachel combined her and her husbands names and Chelory was born.
I simply love everything about this adorable elephant print diaper! You can choose to have either snap closure or hook & loop (we chose snaps) and there are 3 rows of rise snaps to allow for a great fit on your baby ranging from 12-40 pounds. 40 pounds!! That is fabulous for us considering Tates is well over 30 pounds and not wanting to have anything to do with the potty yet.
Only natural fibers touch babies delicate skin with this diaper and I should add that the fibers are squishy soft. The outer material is PUL so no worries about an additional cover, this diaper truly is an AIO. The inner soakers are a combination of bamboo and zorb. What is zorb you may be thinking? Zorb is a newer product that can absorb 10 times it's weight in less than half a second (that's 20 times faster than cotton). It has the amazing ability to wick moisture evenly throughout the entire absorbent surface area too.

As a natural fiber loving mama this diaper has me doing flips, literally lol! Unlike most other AIO cloth diapers this one doesn't have a super long dry time, you can flip the attached soakers around the outside of the diaper and cut your dry time astronomically! The two soakers separate from each other as well making it even easier. That means it can be back on your babies tush faster!
Let's talk fit, Tates chunky thighs and growing toddler waist are no match for Chelory. The leg and back elastics are just perfect, they hold in a huge toddler load however there are no red marks ever.

And last but definitely not least this diaper is T-R-I-M, ultra trim actually, it is one of the trimmest I have seen. All natural, easy to use AIO, quick dry time, super absorbent, great fit and ultra trim means this mama is in love with Chelory! My only problem is deciding which adorable print to buy next!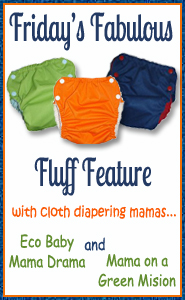 Make sure you head over to see what Mama on a Green Mission has to say about Chelory for Friday's Fabulous Fluff Feature!
Buy it: You can purchase your Chelory Organic AIO directly from the Chelory website where there are also Stay-Dry and AI2 diaper systems available! Which color or print is your favorite?
Win it: One lucky reader is going to win their own Chelory AIO cloth diaper! You get to choose any solid color in either Stay-Dry or Organic as well as snap or hook & loop closure.
.