Opened in October of 2010 and still going strong, Nature Bumz Co. is owned and operated by the Cline family in Ontario, Canada.  With shipping available to the US and Canada the family run business offers cloth diapers and other natural products directed towards mom and baby as well as offering services such as cloth diapering seminars, consults and baby registries.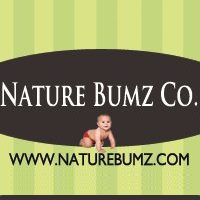 Nature Bumz sent us a sunshine yellow Baby Kangas one sized pocket diaper to try out on Tates.  This diaper offer some of our personal favorite features as well as a fun new feature we have never come across in cloth diapering to date!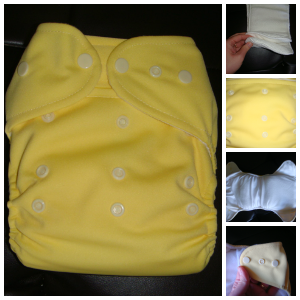 *One Sized (Fits from approximately 10lbs to 35lbs)
*3 available rise settings with easy snap down adjustment
*Snap closure (overlapping snaps for smaller babies)
*Soft microfleece lining to keep baby dry
*Inserts are NOT included with this diaper however I was sent 2 Baby Kangas microfiber inserts
The really unique feature that I mentioned we had never seen before and really think is pretty cool is the pocket opening.  It is located on the outside of the diaper and is a zipper.

You can see how wide the opening is, the full width of the diaper making it super easy to stuff.  There is an extra flap to prevent wicking through the zipper and the zipper pull (the Baby Kangas tag) never touches babies delicate skin.  Ever have an insert bunch up or get twisty because a squirmy baby flipped and flopped while you were putting the diaper on?  You can easily flatten and adjust the insert with the diaper still on your baby with the cool outside pocket 😉

With the rise fully unsnapped the rise is slightly higher than other one sized diapers and the waist still had plenty of snaps available for Tates to grow and be able to wear the diaper for awhile.  The wings are super stretchy offering a really awesome hug fit and the gentle leg elastic fits great too. The way the diaper is cut it sits slightly higher on his thighs which is great for our little acrobat 🙂  With only one microfiber insert the diaper is pretty trim, since inserts aren't included you can really customize this pocket to fit your babies needs.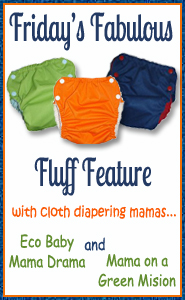 Nature Bumz and Baby Kangas are this week's Friday's Fabulous Fluff Feature!  Make sure you head over to see how Baby Kangas worked for April from Mama on a Green Mission!
Purchase: You can purchase Baby Kangas as well as several other well known brands from Nature Bumz online store where you can get free shipping on orders over $124.99
Have you tried Baby Kangas before?  What do you think about the zip closure outside pocket feature?