Every mom will tell you how heartbreaking it is to see their little one teething.  This mama went on a search for natural solutions and found a solution at Whole-Earth Gifts  and am really excited that they sent me the Sophie the Giraffe Set to help us get through some molars.
For ages 0+ this is a great gift for any mom to be, I wish I had this for Tates from the beginning!  Made of BPA and phthalate free natural rubber and decorated with food grade paints you can feel safe offering this teether to your little one.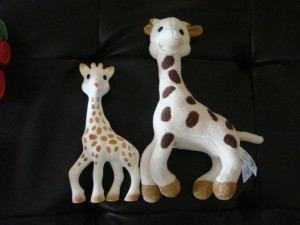 The different textures on Sophie's body offer several soothing surfaces for sore gums, your baby might like to chew on a hoof one day and the next use Sophie's ear to massage away pains.
Squeeze Sophie and she laughs, the wonderful cheery noise will have baby laughing along and possibly distracted from teething for a bit.  There is a bell rattle inside the plush Sophie which is perfect for keeping baby entertained whether for simple fun play time or as a distraction during diaper changes.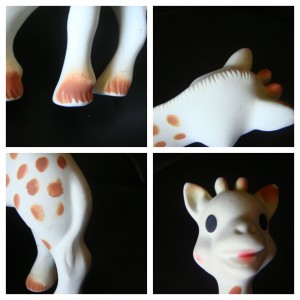 Plush Sophie is just as flexible as rubber teether Sophie only a soft fuzzier version, both are lightweight and easy for baby to grasp. Tates calls his Sophie's 'Mehmeh'  (Melman from the Madagascar movie) and absolutely loves both of his 'Mehmeh's' dearly.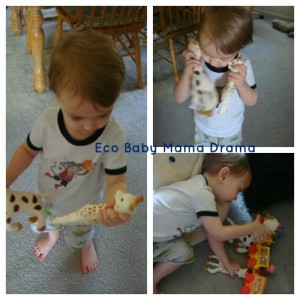 Hand made in France since 1961 it is not surprising this is the #1 best selling teether.  Offering stimulation through touch, sound, sight and smell this gift set is a Must Have item!
Purchase: You can purchase the Sophie set from the Whole-Earth Gifts site and receive free shipping on orders over $50 with free returns.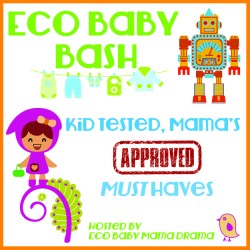 Win! Whole-Earth Gifts is a sponsor for Eco Baby Bash and is generously giving one lucky reader the same set I received!