New Earth Diapers are custom, handmade cloth diapers that offer an affordable disposable diaper alternative, but are much more stylish too. Cloth is CUTE! Astrid the owner/maker offers several different diaper styles including pockets, All-in-Two (AI2), covers for prefolds and flats, swim diapers (that can also double as diaper covers) and pull up style training pants.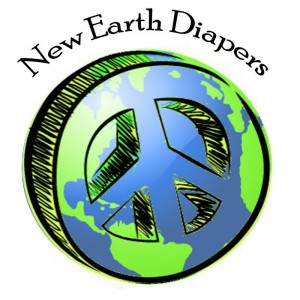 Astrid sent me a one sized elephant walk print pocket diaper to review and use on Tates.  I absolutely love the print don't you?  The diaper comes with a microfiber insert included in the cost.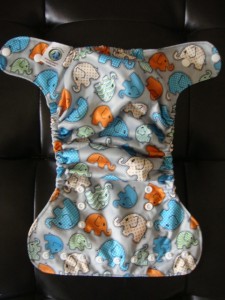 The diaper has one row of snap closure with crossover snaps included for babies with smaller bellies. I love that the snaps are hidden so they can't irritate babies sensitive skin.   There are two rows of rise snaps to make the diaper three sizes in one and usable one baby at many different sizes.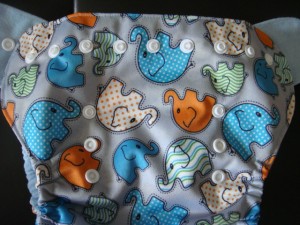 The inside of the pocket diaper is lined with suede cloth offering baby a dry feeling against their skin.  This pocket diaper is unique in the fact that there is an opening for the insert at the front and the back to stuff from whichever you prefer!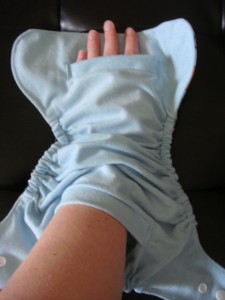 Tates is over 30 pounds now and as you can see the diaper closes with lots of available snaps still for him to grow into it!  The rise is fully unsnapped.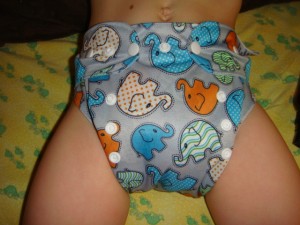 Tates has some chunky thighs and the gentle leg elastics hug him and handle quite the heavy load without leaving any marks making this a definite grab when it is clean diaper!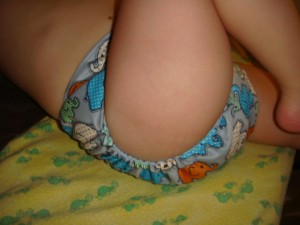 The microfiber insert is very thirsty and trim making it easy to dress Tates in regular sized clothing and not have such a huge fluffy butt!  I also really like that the tag is on the outside of the diaper and away from his sensitive skin although the tag is silky soft 🙂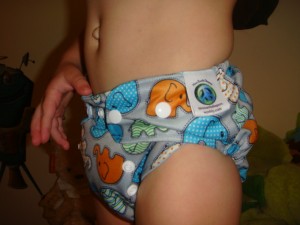 Purchase: New Earth Diapers are available on Facebook as well as the New Earth website to purchase now!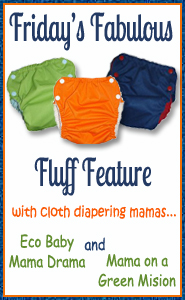 New Earth Diapers are this weeks Friday's Fabulous Fluff Feature!  Please make sure you drop by and see what April from Mama on a Green Mission has to say about New Earth Diapers!
 Giveaway!! New Earth is generously offering a $10 Gift card to her online store to TWO lucky readers!  Enter below and Good Luck!