The idea of potty training/potty learning your baby toddler can make any mama anxious.  Honestly I don't even really remember what I did with my oldest!  It was forever ago and we used disposable diapers then and I was a single mom that had daycare so most of it was probably done by them (hanging head in shame).  This time around I am equipping myself with all the essential tools to get the job done right thanks to Grovia.

Offering eco-friendly disposable and cloth diaper options for your family is GroVia's mission.  They are constantly improving themselves to make sure they are making the latest and greatest products on the market so you can provide only the best for your baby while taking care of the planet too.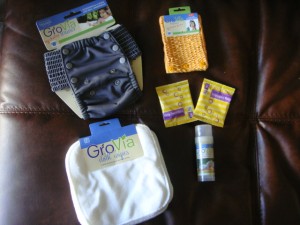 We were sent a wonderful training kit to review and immediately I was in heaven!  So many goodies to try out and all the natural products this mama loves!  We received some samples of Tiny Bubbles cloth diaper laundry detergent, Magic Stick diaper rash cream, cloth wipes, My Choice Trainer and a set of the My Choice Side-Flex Panels Plus.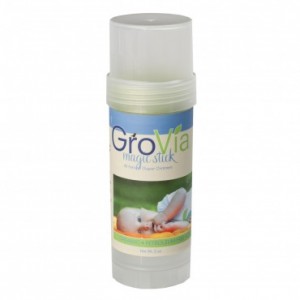 Let's start with the Magic Stick, the name of this diaper rash cream is absolutely magic.  Made with all natural and organic ingredients this is a definite must have for every family.  You want to have one for each child in every place (diaper bag, changing table).  Easy application with the simple twist of the stick and you have clean hands and protected baby skin.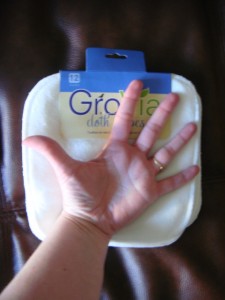 Next we have the wipes, made of  ultra soft baby terry and perfectly sized for the wipes warmer.  With 10 wipes included in each package these are a great deal and are generously sized to handle whatever mess your little one can dish out.  They are also gentle enough for wiping food covered faces and using in the bath if needed!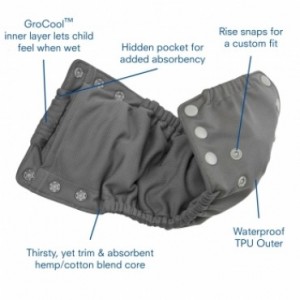 Last but definitely not least we have the My Choice Trainer along with the Flex Panels Plus.  What I absolutely love about this trainer is the natural hemp/cotton blend sewn in soaker that is super absorbent.  Potty training is just that TRAINING, there will be accidents and with this trainer you don't have to worry about your child's clothes getting wet and them being embarrassed.  With the hidden pocket in the back you can even add an extra insert for the child that is just starting out and might have more accidents.  With the rise snaps on the front (just like a cloth diaper) you can get the perfect fit on your child and with a GroCool inner against your child's skin they will keep cool but feel wet if they have an accident.
The side panels on this trainer are super awesome, I love how flexible they are!  You can see the regular flex panel that came with the trainer (Cloud) next to the Flex Panel Plus (Mandarin).  They really stretch! The sizing is regular 1T-3T (18-35+ Lbs.) and Plus 3T-5T (30+ Lbs.) making this trainer fit the early or late potty trainer. I love the multiple color options the side panels are offered in too so your child can 'design their own trainer'.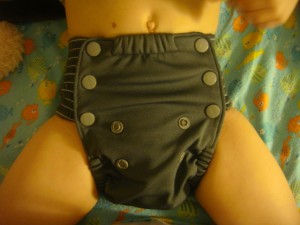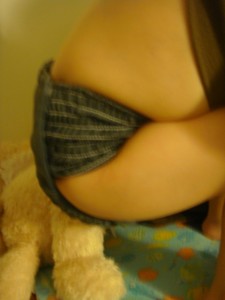 Tates doesn't seem to be quite ready for the big boy potty yet however I am confident that this trainer will be an asset when he is ready.  He wore it several times and really seems to like the fit (and I love how trim it is!) and feels comfortable in it he just thinks it is a diaper and doesn't let me know until after he has used it that he is wet.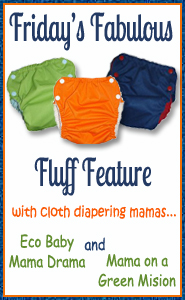 Special thanks to GroVia for being this weeks Friday's Fabulous Fluff Feature!  Make sure you head over to see what April from Mama on a Green Mission thinks about another one of Grovia's cloth diapering systems!
Buy It: You can purchase any or all of these wonderful GroVia products directly from the GroVia online store.  I know I have already stocked up on trainers and another Magic Stick and am wanting more wipes too!
Win It: One super lucky Eco Baby Mama Drama reader is going to win a $20 gift certificate to go shopping at GroVia.com!  What do you want to buy?