Laura is the wonderfully talented wahm behind Baa Baa Baby.  She offers some of the cutest recycled wool soakers, longies, sleep sacks and shorties I have ever seen.  She uses a variety or wools including lambswool, angora and cashmere for her fabulous looking creations making sure your little ones tush is not only covered with the best but also the most stylish designs too!
Laura sent us the 100% lambswool soaker made out of a gray, black and cream blend patchwork type sweater.  You can see that the back of the soaker is slightly higher to allow for a bulky cloth diaper and still have baby's tush covered.
Laura does some awesome work!  I took some up close pictures of the seams; both on the waist band and the legs so you could see how well the soaker is made.  The waistband lays flat and looks very natural as if the sweater came that way.
Laura even lanolized our cover for us so it was ready to go when we received it!  It was so nice to be able to open the package and (literally) put it on Tates for his nap!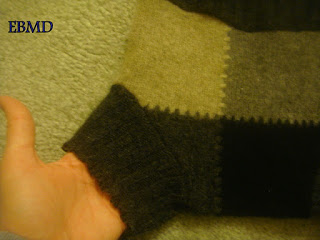 The cover fit beautifully!  It hugs Tates for a great trim fit, I can't wait to use it this summer so we don't have to have him wear pj pants over it!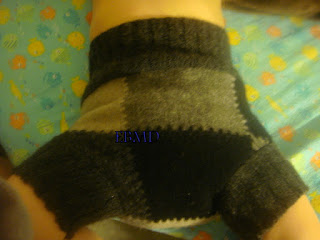 The fit is great and not too tight at all, Tates can take it off (as you can see!) by himself with ease.  I am not so sure that is a good thing (LOL!), actually I asked him to take it off for the pictures to show how stretchy it is.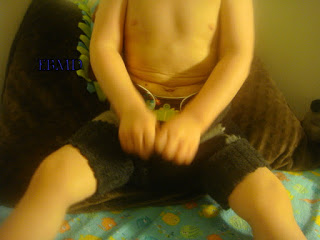 You can purchase your very own wonderful wool creations from Laura's Etsy shop right now!  Head on over to

Baa Baa Baby

and check out her fully stocked store or place your custom order!