I felt an instant connection with Jessica the sweet lady behind Belly Buttons and Bubbles Baby Boutique.  She has personal experience with many of the products she sells so she can help you choose exactly what you are looking for as well as use her experiences for advice purposes.  We probably emailed back and forth a hundred times talking fluff and other mama talk.
I simply adore the story behind her shops name because it reminds me of my own baby Tates so much.  When creating and naming the store her daughter was in a 'belly button' stage and was (and still is) a bubble lover.  Tates has a belly button 'thing' if you will and goes for his belly button when he is nervous and in his sleep too, I don't even think he knows he is doing it sometimes.  He can't wear onesies for this reason and when he cuddles with me he likes to lift up my shirt and pat my belly.  Bubbles were introduced to him during his speech therapy and was one of the first recognizable sounds he made.  We have to have bubbles stocked at our house as he still gets the greatest joy out of them.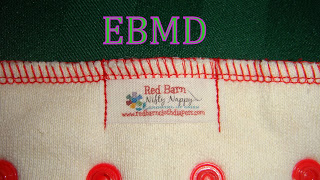 After discussing in detail our cloth diapering preferences and the fact that Tates is a very heavy wetter (he can soak a disposable diaper in an hour), Jessica was so generous to send me a Red Barn Nifty Nappy Heavy Doody Fitted diaper and 2 different Punkin Butt doublers for us to get started using cloth overnight since starting cloth again.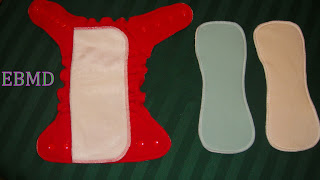 Although this diaper is only available in the one color (natural color outer/red inner) it offers MAXIMUM absorbency and this far outweighs any cute prints in my book any day.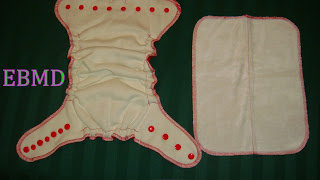 So what makes this a HEAVY DOODY you ask?
BODY:
-Outer layer: Organic Hemp fleece
-Sandwich layer: Organic Hemp fleece
-Inside layer: Microfleece
LAY IN INSERT:
-Organic Hemp Fleece
-Organic Bamboo Velour
This will fold in half and lay in the diaper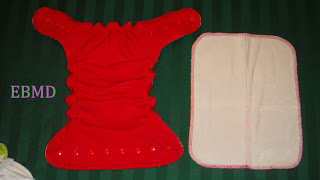 Even with this thirsty combination of natural materials I am on the precocious side and add both of the doublers Jessica sent me to make sure my little super soaker doesn't wake up wet.  Both of the doublers are sized small (11″long x 4.50″wide) and consist of 55% organic hemp and 45% organic cotton the only difference is the white one is velour topped and the blue one is fleece topped (both stay dry material).
As you can see even with 2 extra doublers this diaper is still amazingly trim.  The hidden elastic offers superior mess containment and ultimate comfort for baby.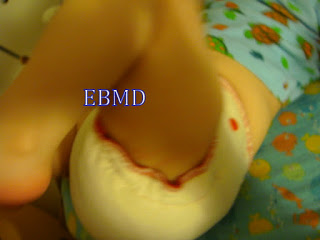 Chunky thighs are hugged for the ultimate fit without leaving any red marks.  When baby boy sleeps in this diaper for over 13 hours he wakes up dry and comfortable making happy mornings for mama and baby!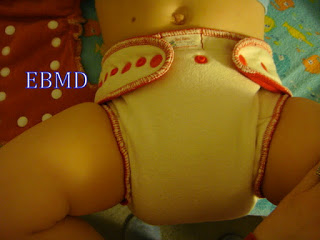 One sized snap closure with crossover tabs allows for the perfect fit.  As you can see (again I want to remind you there is two extra inserts in there!) Tates still has many snaps left ensuring I will be able to count on this diaper to take us through potty learning time.
Buy It:
You can purchase your very own Red Barn Nifty Nappy Heavy Doody fitted diaper and Punkin Butt doublers along with a wide variety of other cloth diapers and diapering accessories at
Belly Buttons and Bubbles Baby Boutique
.  Jessica is having a HUGE 5 winner Facebook giveaway  right now so hurry over and join in the fun!