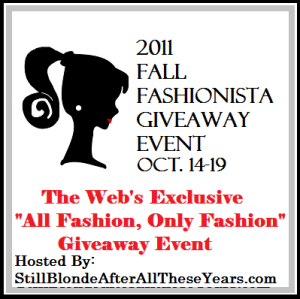 My second sponsor for the Fall Fashionista event is a wonderful little gem of a shop I found on Etsy called Mercury's Glass Lampworking.  I am a total jewelry lover and immediately fell in love with this store!  I just want one of everything in her shop!

Tracy is a stay at home mom and the talented artist behind Mercury's Glass Lampworking, she began dabbling in art at a very young age and her passion has blossomed into some beautiful creations.  As a young child she dreamed of working as an artist and she is proud to be still working towards that dream today.  Tracy began working with hot glass when she inherited her equipment and immediately fell in love with the process of melting glass into different shapes and patterns.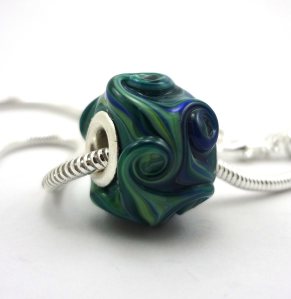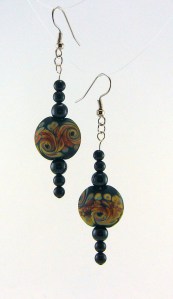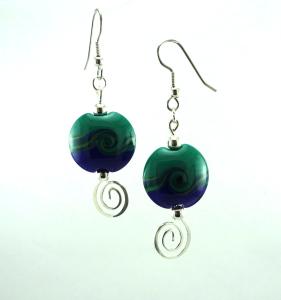 Photos courtesy of MGL
Tracy's process for making the sculptural pieces (like the turtles and other animals) is a bit different from most glass artists…instead of heating the glass until it's pliable enough to sculpt with tools like typical glass workers, she melts the glass to a more liquid state and then with the use gravity and flame she hand shapes each piece.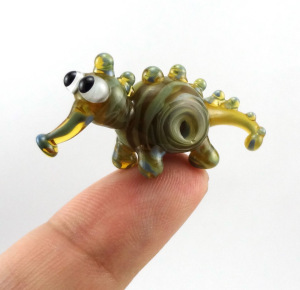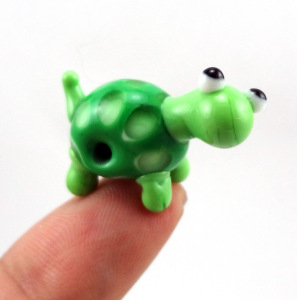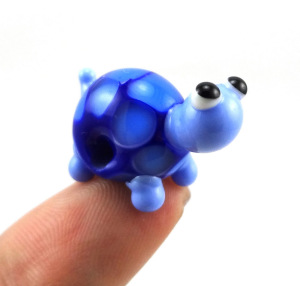 All photos courtesy of MGL
For the landscape beads she uses a complex process of first making multi-colored thin glass rods and then using them to 'paint' the scenery and trees onto the base bead…no actual paint or enamels are used, the beads are 100% glass.  Each piece is one of a kind and a true piece of exquisite art.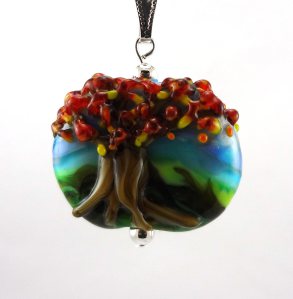 Photo courtesy of MGL
Tracy sent me one of her signature landscape pendants for a review and I chose the blue and green themed tones as those are my favorite colors.  Each necklace Tracy makes typically comes complete with sterling silver plated beads and chain with a lobster clasp. I have an allergy to silver so Tracy graciously accommodated me with a gold headpin and endcaps verses the standard silver.  The total length of the necklace is about 20″, but Tracy is glad to make it any length you like at no additional cost.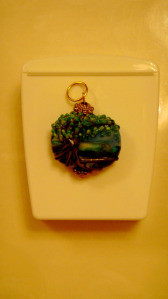 On top of dental floss for size comparison-sorry for the poor lighting
The pendant is a discussion piece whenever I am wearing it (quite often!) and I always get compliments. The pictures I have of me wearing it do not do it justice, it really is simply gorgeous!  I love that it looks so elegant on a gold chain and I can dress it down if I put it on a chord.  I love that my tree trunk is a gray and black mix and can tie in well with black shirts and add the perfect burst of color with the leaves and skyline.
The texture of the necklace is raised but smooth and my little one loves to have it in his little hands whenever he is being carried around and rocked to sleep.  I love knowing the pendant is 100% glass and colors will not fade nor is there any toxic paint to worry about.
What piece of art is your favorite?
Buy your own custom creation from Tracy's online shop which is fully stocked with a wide array of unique creations!