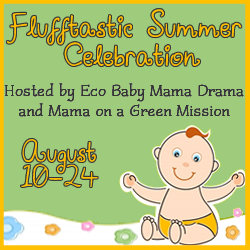 Welcome to the Flufftastic Summer Celebration Giveaway Hop Sign Ups
{Free* to join!}
This is a themed giveaway hop all about cloth diapering and accessories.
Mama on a Green Mission and Eco Baby Mama Drama are your event Hosts!
Event Info:
 This is a FREE* event that will start at 12:01 am EST on August 10th and end at 11:59 pm EST on August 24th. With the craze over cloth diapering right now this hop is sure to be a huge success
If you're using Rafflecopter to run your giveaway(s) please make sure to set it to end on August 25th.
The hash tag for this event is #clothdiaperhop Please include this hash tag in your daily tweet giveaway option.
What's Required
You must join our Facebook Group Green Gals Blog Events & Support. If you don't join you'll miss all the support and information for this giveaway hop!
It's required that you have a cloth diaper themed giveaway hosted by you on your blog. It's not required that you use Rafflecopter to run your giveaway but it's recommended.
The value of the giveaway must be at least $30. You can have more than one giveaway item and you can have more than one winner. Please make sure that each winner receives a prize worth at least $30.
You should have 1 or 2 very easy mandatory entries. You should follow Facebooks TOS when running your giveaway. Only FB related entry that is allowed is 'liking' a page.
You must include the event button in your giveaway post AND your sidebar. If you need to modify the size of the button please contact a host to get final approval.
*Event fee of $5 is waived if you post on your blog about this event. The post must include the event button as well as a link to both Eco Baby Mama Drama and Mama on a Green Mission. If you would rather not post about the event you do have the option of paying a $5 signup fee to be paid via PayPal as a "gift" to ecobabymamadrama@gmail.com.
If you agree with what's required and want to take part please fill out the linky below then THIS FORM.
The Grand Prize (OPTIONAL)
There will be a $300+ GRAND PRIZE Giveaway hosted at Mama on a Green Mission & Eco Baby Mama Drama. Prizes have been secured and exact details will be announced soon!  You must be signed up for the Giveaway Hop to be allowed to take part in the Grand Prize Giveaway. This is totally optional but will greatly benefit you if you choose to sign up.  Both Facebook and Twitter links will be included in the Grand Prize Rafflecopter form for $5.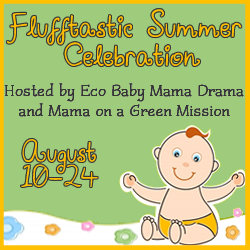 Please contact me if you have any questions.
Please link up your blog URL & blog name. Once the event gets closer, your prize value and who it's open to will be added and when event is live we will add direct links upon request if you are not making your post sticky.
April and I are looking forward to working with you and making this a fluffy fun event!