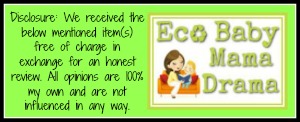 So you have decided to take the plunge and use cloth diapers, you are super excited to get started but wait! You can't just use any diaper rash cream…not all diaper rash creams are safe for your cloth diapers! Lucky for you Thanks Mama has you covered and offers a wide selection of cloth diaper safe rash creams in several forms to suit your families needs.

I'm really loving the two different rash creams I was sent to test out on Tate; Mother Earth Baby Bottom Better Diaper Salve and CJ's BUTTer: Squeeze Tube. Both are great choices I highly recommend. Each is nicely sized to last awhile and are also perfectly sized so you can fit them in your diaper bag for on the go without taking up much space.
Mother Earth Baby Bottom Better Diaper Salve is a wonderful cream for little ones that have sensitive skin. The non-toxic, petroleum and perfume free salve has a consistency the easily smooths on babies irritated skin and provides a barrier against wetness. This great cream boasts Calendula, an anti-fungal flower which can be used to treat yeast infected diaper rashes (and cradle cap), definitely something you should have on hand just in case! 😉
Another wonderful choice when dealing with diaper rash and cloth diapering is CJ's BUTTer. CJ's BUTTer is available in several varieties (spritz, squeeze tube, stick or tub) for however you prefer to apply and offers a huge selection of scents in everything from warm vanilla cake to Lemon Grove Essential Oil Blend and everything you can think of in-between. We tested out the squeeze tube and it didn't disappoint! Not only did it clear up rashes in one application it also has many other uses making it invaluable in our home. What else we love to use it for:
dry chapped skin (perfect for winter hands!)
scrapes (it's a great boo boo soother!)
eczema (perfect for all ages!)
irritated noses from colds (instant relief!)
You can see the rich creamy consistency of CJ's BUTTer and the oils that make it so amazing. We really just can't get enough of it! My little one asks for his BUTTer whenever he has any type of boo boo, it really is a cure all!
Get to Know Thanks Mama!
Thanks Mama is a family owned and operated natural living store located in Boston, MA. Offering a great selection of cloth diapering products including potty training pants and swim diapers as well as a knowledgable staff to assist you in all your natural lifestyle needs. Baby care products, baby carriers, bibs, toys, nursery furniture and bedding, and strollers are just a few items you will find while browsing. Offering innovative products that are good for baby and the environment while keeping in mind most families are on a budget if key. That's why Thanks Mama offers the Lowest Prices, Free Shipping on orders over $60 within USA, 90 days easy returns; Buy Safe Guarantee and Price Guarantee. Guess what? Thanks Mama ships worldwide too!
Stay social and keep up on cloth diaper news, natural parenting discussions, and a variety of giveaways and contests by following Thanks Mama on Facebook, Twitter and Pinterest.

Make sure you check out the review of cloth diaper training pants from Julie at A Year with Mom & Dad courtesy of Thanks Mama and enter to win a fabulous prize too!