Amanda from Coping with Frugality is PREGNANT and anxiously awaiting the arrival of her new baby boy, what better way to celebrate than with an event devoted to cloth diapering her new little bundle of joy?!
Eco Baby Mama Drama and Coping with Frugality have teamed up to host an amazing cloth diaper giveaway hop….New Baby, New Fluff!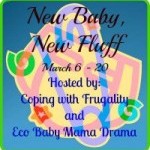 New Baby, New Fluff will take place March 6-20 and feature not only a HUGE grand prize packed with amazing cloth diapers and cloth diapering accessories, but fluffy prize packages from participating bloggers, each with a value of at least $25!
Event Details
Dates: March 6-20, 2013
Price: FREE!
Prize Requirements:†Min $25.00 in prizes that are cloth diapers and/or cloth diaper accessories! (Multiple prize packages/winners are okay, but each winner must win at least $25 worth of prizes)
Hashtag: #NewFluff
While it ís not required that you post about this giveaway on your blog, it would be greatly appreciated if you wrote a short post about the hop and shared it on Facebook and Twitter so we can make this event a huge success! 
We are offering a $20 (PayPal or gift card of winners choice) top blogger referral prize so make sure you send your friends over to sign up! (must refer 2 participating blogs minimum)
Be sure to join the Green Gals Blog Events & Support Facebook Group to keep up to date!
To sign up: