The LayNGo Activity Mat Lite is a great invention!  The activity mat is an activity mat that measures 18 inches and converts into a travel satchel to carry your little ones tiny toys like trains and blocks, and makes clean up a snap! We received the blue one from PishPoshBaby for Tates to use.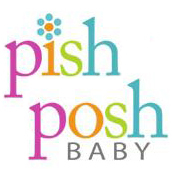 It's simple enough for Tates, who is 2, to use by himself, which makes for a lot less work for me!  Since it's so small, it works in the car, on plane rides, or just about anywhere you're going that your little one has his/her toys.  When your child wants to play, you just pull out the LayNGoActivity Mat, and let him go to town playing with his smaller toys, and then when he's done, he/she simply pulls the drawstring, and bam! All clean!
Great for grandma's, play dates, and any sort of trip!  It keeps all the pieces together, even when they're playing!
Great features!
100% nylon fabric provides a tough and water repellent wipeable surface
Available in blue, green, pink, red and orange
Durable nylon cord and cord lock provide an easy opening and closing system which keeps small toys securely inside
Nylon handle adds both comfort and convenience for carrying
A velcroed front storage pocket provides a place to stow the drawstring when closing or carrying the bag
All in all, I think this product would be a great gift for any child, and makes for a great way to make cleanup more fun for everyone.  It also saves your poor toes when your child misses a Lego or other small toys in the middle of the floor when you're on the way to the bathroom in the middle of the night.  We all know there is no pain worse than that!  With the LayNGoActivity Mat, all sore feet are a thing of the past!
Purchase: You can buy this great travel accessory for $24.95 from the PishPoshBaby website for $24.95 with free shipping on orders over $75!
Do you have a LaynGo Mat?  What other fun products from PishPoshBaby do you love?