Baby it's going to be getting cold outside and quickly!  With the holidays comes fall and winter weather and with the upcoming season changes and holiday excitement Treetop Baby is celebrating!  Treetop Baby Holiday Extravaganza is already in full swing and showering the Eco Baby Mama Drama readers with some wonderful gifts!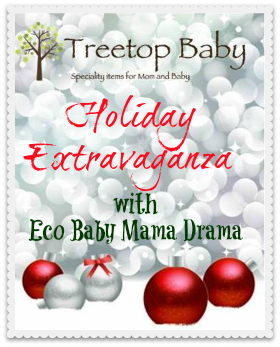 There is still time to enter to win BG Freetime and/or $20 Treetop Baby Gift Card in giveaways #2 and #3 but hurry one ends today!  Are you ready to find out what is up for grabs in giveaway #4?
That's right football fans, this one is especially for you!  The winner of giveaway #4 will receive a pair of BabyLegs in touchdown print and a matching Mud colored Thirsties Duo Wrap in your choice of size and closure!  Perfect for the colder weather and watching the game!  I love watching the Chicago Bears, who is your favorite team?

Don't forget Jennifer is offering FREE SHIPPING within the USA from now through the end of November and is adding more stock everyday!
Enter below and good luck!  Please remember: All giveaways are open to US and Canadian residents and all entries will be verified.  Treetop Baby will ship prizes directly to winners and yes you may win more than one giveaway so make sure you keep entering! ~WINNER~ Whitney J