Tiny Love is a company that I really wish I would have known about when Tates was first born.  They offer a wide range of bright, colorful and entertaining baby toys and gear that encourages development and learning.  We were sent two of their newly released items and boy were we excited when we got them,  the Tiny Love My Nature Pals Gymini and the My Nature Pals Mobile arrived at our door and Tates couldn't wait to get them open!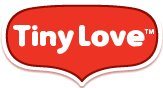 I was immediately in love with both items and could tell they were made with a lot of thought about how babies and kids alike can explore and have fun playing.  The My Nature Pals Mobile has a leaf shaped music box base that lights up to keep baby entertained and happy whether you choose to have it attached to the crib or changing table.  I really love that the top part of the mobile is removable so your child can enjoy the music and light show well after they might be too old for the adorable friends that are attached to keep them mesmerized when they are small. As you can see Tates likes to keep his friends attached to our baby gate in the living room and place the music and with his little buddies still

The My Nature Pals Gymini is really a must have item for any family I think.  The mat itself is large enough for your little one to have some fun exploring time and is soft and comfortable.  The fun toys that are included clip on but are moveable making it easy to adjust the mat to fit whatever stage your baby is at (tummy time, sitting up on their own).
The large mirror and the super fun friends that I mentioned before as being able to move are great fun in their own little ways.  Each is vibrantly colored and adorable for baby to call their first friends.  The cute frog is a favorite of mine and Tates but the beaver is a close second with his fun and noisy crinkly tail.  I adore the silly looking caterpillar that is also removable to be able to go anywhere with you, he plays music and light up too for extra entertainment.
Both are fabulous for baby and toddler years too, we like to take the mat along with us for Tates to have his own clean play area no matter where we go and everything fold up super compact too!
Tiny Love is one of the fabulous sponsors for Travelin' with Baby Giveaway Hop here at Eco Baby Mama Drama offering one lucky winner the super fun My Nature Pals Gymini to a lucky reader!  Head over to enter now!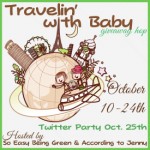 Tell me what other Tiny Love product would yo love to own for your family?