When it comes to babies delicate skin you have to be extra careful what you use to not only clean baby but also what you use to moisturize and treat their skin for any ailments.  With Live Clean Baby products there are no nasty chemicals to worry about irritating babies skin and the make baby smell simply wonderful.
Live Clean is a Canadian based eco-friendly personal care products company that incorporates only natural, non-irritating, supremely gentle plant based ingredients to keep baby squeaky clean while always considering babies health.  All Live Clean products are free of Sodium Lauryl Sulfate, Diethanolamine (DEA), parabens, phthalates, preservatives, phosphates, and animal by-products.
We were sent the a wonderful selection of the baby line for Tates to use which included lotion, baby bath, shampoo and wash, bar soap, diaper ointment, and non-petroleum jelly.  I have to say the scent is AMAZING and by far one of my favorites.  Since reviewing the impressive baby line I have stocked up on what should probably be about enough to get us through Tates going to college.

The generously sized bottles are definitely mama approved and a Must Have during not only bath time but general baby care throughout the day.  We love to have the bar soap (sold in 3 packs) at each sink so Tates can wash his hands easily without having to worry about any nasty chemicals being left behind like many other hand soaps contain.  The soap is enriched with shea butter which ensures little hands won't get dried out like other soaps too. And I know I already mentioned this a few times but seriously I can't say it enough how heavenly the scent is (bars are also available in unscented).
The diaper ointment hasn't been tested by us yet since Tates has been rash free (knock on wood) but does contain zinc oxide which is not cloth diaper safe so beware if you are a cloth diapering mama, you need to use a liner.
The lotion is rich and creamy and goes on Tates skin smoothly and absorbs quickly leaving no greasy after feeling, just sweetly scented soft and clean baby.
The only thing that I would possibly change about the baby bath as well as the shampoo and wash is that the consistency is slightly 'runny' if that makes sense?  It comes out of the bottles rather quickly so I tend to use too much making the bottles go faster and our baths extra bubbly, Tates actually loves that part!
Buy some: You can purchase the entire line of Live Clean at Walgreens!  How exciting is it to be able to purchase some wonderful baby products locally?  Yahoo!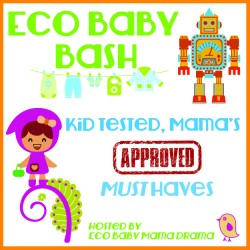 Win some!! As an Eco Baby Bash sponsor Live Clean Baby is generously offering one lucky reader a wonderful gift basket full of the entire line of Live Clean Baby products!
Loading Entry-Form…
…